Service to America Week Shows How TV and Radio Stations Inform Communities – and Lift Them
As Hurricane Harvey ravaged Texas with torrential rain and record-breaking flooding, the team at CBS Radio Houston stayed on air for four days straight, simulcasting across the ownership group's stations. Live, continuous updates gave listeners the information they needed to stay safe. Even as the station flooded, the broadcasters stayed put, remaining laser-focused on supporting their communities.
"That was our main focus: to get as much information as we could out to every listener in Houston," says George Lindsey, morning host for CBS Radio country "100.3 The Bull."
Providing real-time updates in times of crisis is just one of the many vital ways broadcasters serve their communities. During the National Association of Broadcasters annual Service to America Week, we honored and celebrated the reporters, producers, camera operators and others who deliver the news to Americans every day. This year's event spotlighted some of the best natural disaster reporting, investigative journalism and volunteer projects from broadcasters across the country.
Keeping People Safe and Informed
CBS Radio Houston was one of many stations that provided non-stop coverage during 2017's particularly brutal calendar of intense natural disasters. Broadcasters from coast to coast braved treacherous conditions to keep viewers informed as regions experienced historic hurricanes and wildfires.
To honor their commitment and showcase the critical role broadcasters play as "first informers" during natural disasters, the National Association of Broadcasters Education Foundation bestowed its President's Special Award to broadcast stations in California, Florida, Montana, Oregon, Puerto Rico, Texas, Washington and the U.S. Virgin Islands. The award was presented at the Celebration of Service to America Awards gala, held Tuesday, June 12, in Washington, D.C.
Rep. Sheila Jackson Lee of Texas, who attended the gala, praised broadcasters for their coverage of Hurricane Harvey, which devastated her district.
"Without all of you we wouldn't have been as informed as we were," she said. "I thank you all so very much."
Shining a Light With In-Depth Reporting
Although reporting in the moment is an essential role broadcasters play, local stations and broadcast networks also support their communities through in-depth investigative reports that shine a light on problems that would otherwise stay hidden. The investment of time and resources helps to improve lives, and even save them.
Last year, Pittsburgh's WTAE, owned by Hearst, broadcast a one-hour special report on the ways Pennsylvania's child welfare system failed to protect children. The station's investigative team pored over government documents that detailed the tragic deaths of children raised in violent homes.
"We found dozens of cases — case after case — where child welfare agencies knew there was a problem in the home and didn't take enough steps to protect that child. And the child ended up dead," WTAE News Director Jim Parsons said at a Service to America Week panel discussion held at the U.S. Capitol and attended by more than 70 House and Senate staffers.
In the wake of WTAE's investigation, the state auditor general launched an investigation that resulted in recommendations aimed at strengthening child welfare agencies. The Pennsylvania Legislature is now considering these measures.
Serving Communities In Projects Close to Home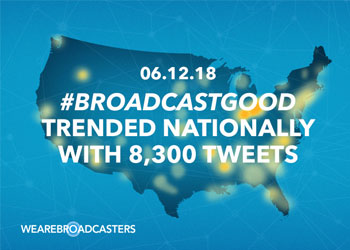 Broadcasters relentlessly expose the problems communities face, but they also serve in other ways. They support thousands of community service projects annually — from the St. Jude Children's Research Hospital telethon to food drives. Because these journalists live in the communities they serve, they have a deep understanding of the issues and needs of their neighbors and are well-positioned to act.
During Service to America Week, stations nationwide shared examples of volunteer projects on social media using the hashtag #BroadcastGood. TEGNA's WKYC in Cleveland highlighted its partnership with the LeBron James Family Foundation. The station is working with a school designed by the foundation to expose students to the possibilities of careers in TV broadcasting.
And in Detroit, WRIF 101.1, owned by Beasley Media, tweeted about its fundraising efforts for JDRF, a diabetes research organization: "Using our #BroadcastGood to help our local chapter!"
"We were so proud to see #BroadcastGood trend on Twitter," said Michelle Lehman, NAB's executive vice president of Marketing. "It gives a sense of the breadth and depth of the community service projects broadcasters participate in every day."
Broadcasters Deliver Every Day of Every Week
Broadcasters' commitment to their communities was highlighted during Service to America Week, but the important work by these dedicated professionals never stops. It's visible every day in the stories stations report and produce, and in the community service projects they support.
"Broadcasters are not simply businesses that happen to be located in a particular city," David Donovan, president of the National Alliance of State Broadcasters Association, said at the gala. "Broadcasters are the community. We provide the information that is essential for a local community to grow and prosper."